Linda Männel was born in Hausham, a bucolic village amidst the mountains of Bavaria, Germany. By the age of eleven, her fifth-grade teacher could already see her creative attributes and assured Linda that her path was that of an artist. Upon finishing her high school studies, Linda joined the Bauhaus to learn diverse skills with wood, glass and textile. From 2003 to 2005, she joined the Nürnberg Academy of Fine Arts where professor Diet Sayler addressed the practice of Concrete Art; a movement that calls for an art that is non-referential to the entities normally encountered in the natural, visible world. In 2009 she graduated from the Academy of Fine Arts in Nuremberg as a Master student of professor Eva von Platen.
For the past eleven years, Linda has been exploring the dynamic between perception and impermanence through the intersection of black and white ink painting with coloured yarn. Männel's works are a real chromatic 'trompe l'oeil'. What appear to be colourful images are in fact black and white paintings with insertions of coloured yarn. It is upon the viewer's act of observation that the areas of the black and white paintings acquire colour. The coloration does not happen when the artist weaves in yarn but rather when the viewer unconsciously and almost automatically assigns colour to black and white areas of the painting. 
Linda's work tantalizes the viewer by a play between hiding and revealing. The painted background loses its immediacy once she meticulously wraps her composition with a delicate textile-colouring. Her use of yarn acts as a soft veiling that gives an additional surface to her work by leaving a few parts of the background exposed. This frail layering gives her work a spatial and temporal depth, rendering diverse images that arise only as the viewer changes its vantage point and light.
Linda Männel shared insight into her process while she took us on a video tour and answered a few questions from her studio in Nürnberg, Germany.
When we met Linda in 2017, she was exploring the perception of the traditional female role from a former time where embroidery was both a practical activity and a decorative practice for the domestic female. By incorporating the practice of embroidery in a 21st-century context, Linda revisits gendered constraints and assigns it new meaning in an innovative and distinct way. 
Although her demeanour and art-style appear gentle and soft, we can unearth deep and critical explorations in her work. Linda Männel has a unique way of perceiving our society's fragility in the face of forces beyond our control whether they have societal, health, time, or natural origins.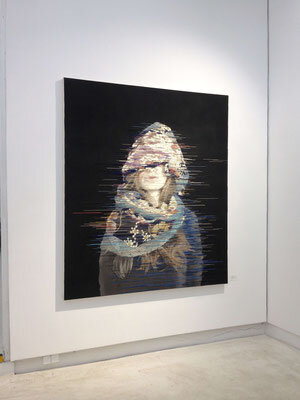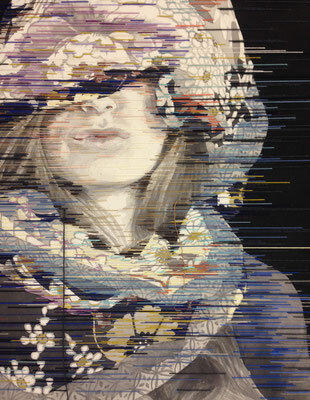 In the series 'Losing Arcadia' 2016, Männel's social context seeped into her process in a similar way that the ink penetrates her canvases. The recent xenophobic atmosphere in her country was felt as a threat to a previous environment when multiculturalism made her country 'colourful' as she expressed in an interview with us in 2017.  
She had previously developed a search for Arcadia in her work, a lost post-mortem paradise described as the best experience one could ever have. From this peaceful and satisfying utopic place, Linda focused deeper on her surroundings – especially on our human relationship to the landscape. For a moment she felt confident of her blessings; living in a great country with lovely people that gradually began to be eroded by fear and negativity. Casual exchanges with her family and friends became increasingly political, a familiar custom like visiting a Christmas market started causing anxiety. Let's not forget the tragic 19th of December 2016 when a truck was deliberately driven into a Berlin's Christmas market leaving 12 people dead and 56 others injured.
Indeed a lively and enthusiastic woman, Linda resorted to a darker palette as a response to the threatening momentum her community was going through.
In 2017 Linda was invited to an artist residency program in Mexico at Arthouse Tulum. As this was her first time in one of the most surreal countries in the world, she could not help but notice the disparity, the destructive nature of humans and our undeniable ability to ignore ecocide in the presence of economic profit. It is no news that since the 1970's the Yucatan Peninsula has been preyed upon by tourism, but the rapid expansion of the 'hobo-chic' hotel strip in Tulum in the recent decade leave the conscious visitor appalled. 
In an interview for Kunstnuernberg, Linda recalls how every morning employees of the AIR program would free the walls and paths of the property from the insects that had resurfaced overnight. She saw this as 'a hopeless struggle against nature in which human civilization is the intruder.' She felt that capturing the essence of her experience in Tulum could not be limited to the frame of an artwork. In the majority of her previous works, the ends of the yarn were hidden neatly behind the canvas, where in Yucatan, she felt they should be let free, spreading out across the room, in an effort to recall nature's indomitable character.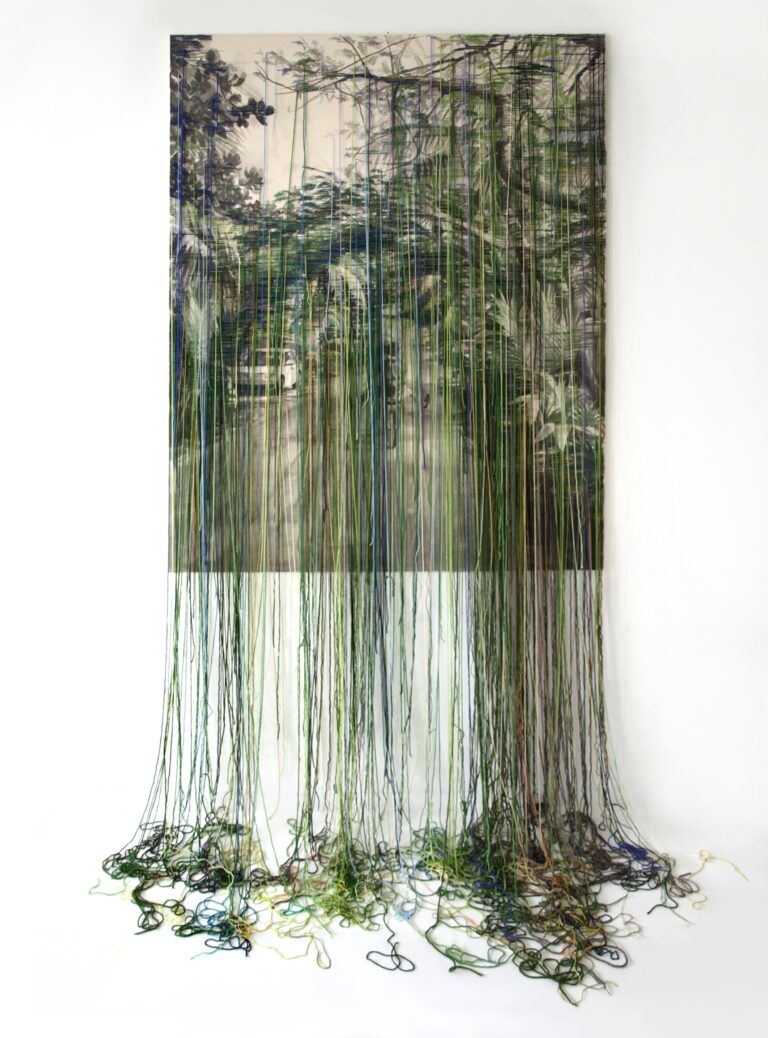 A 'controlled' perception
In 2018 Männel reflected on the condition of domesticity and the sense of entrapment by luxury and wealth. In her series Jaula de Oro (golden cage), Männel depicts heavenly landscapes softly framed by windows that recall the shape of a bird cage.
One can only perceive reality partially through a window and cannot participate fully with the outside world. In her video tour for Curated Tastes, she reveals that today, to be confined has acquired a new meaning for many of us around the globe. Staying indoors was an easy task compared to today, when anxiety and uncertainty reigns. 
In an attempt to gain perspective from the innedit situation we are living amongst the COVID-19 Pandemic, Linda has departed from these explorations of seeing the world from indoors and is currently exploring other processes. We certainly are looking forward to seeing how once again she responds to her environment through her work.