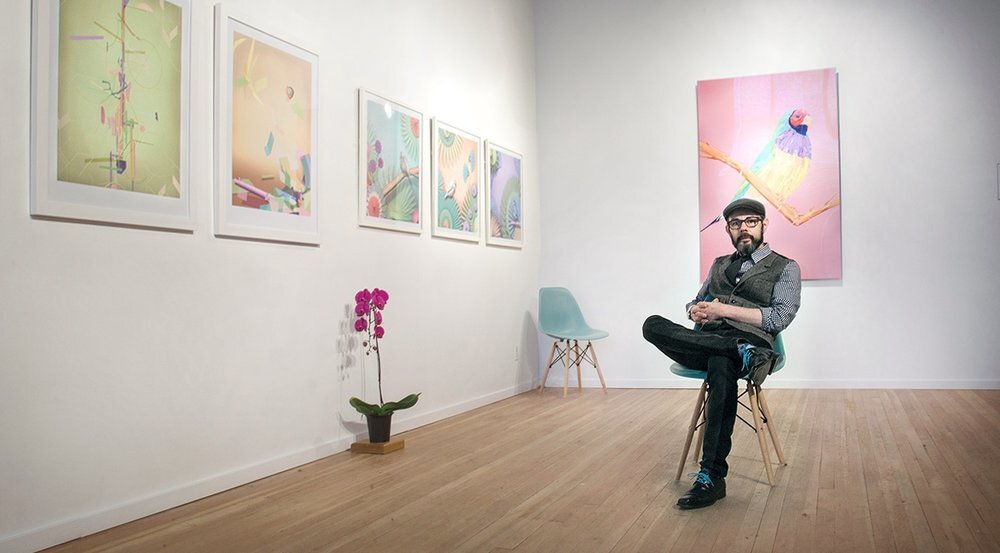 Amidst Vancouver Downtown high rises and busy streets, the next generation of photographers nourish their work at Studio Seven-thirty on Richards Street. This location oscillates between photography studio, video production sets and gallery space. It's a place where you can find yourself attending an art exhibit, a book launch, a seminar or even a photography class or workshop. Studio Seven-thirty is run by artist, Marpole resident and cocktail enthusiast, Dan Jackson. Like many of us, Jackson has had to pause his business and is doing his part to keep our community safe by isolating in his "modest but pretty apartment [located] in a modest but pretty neighbourhood"–as he states in his social media.  
For the past few weeks, Jackson has paid particular attention to the view from his balcony. He claims that the view from his apartment is far from an idyllic scene and although initially claimed that there wasn't much to look at, Jackson now sees a picturesque alley-view. In his Shelter in Place project, Jackson reimagines pixel after pixel what his 'backyard' view could look like if only electric cables were pigmented in pastel colours or if the leaves on the young maple tree had already sprung. 
The interplay between reality and illusion is very characteristic of this photographer's practice. Jackson explores the terrain of photography and transcends its documenting character by approaching this discipline in a painterly manner. Under Jackson's eye and hand, what begins as a capture of a space ends as an infinite layered digital painting. In his current project, Shelter in Place, Jackson continuously inserts snippets of time such as the progression of a blossoming flower or the tragedy of April 18, 2020 in Nova Scotia, Canada. On a recent Instagram post he records: 'I wanted to send some love to the people of Nova Scotia so I tore down the old fence and replaced it with the colours and pattern of the Nova Scotia tartan.' In the video he recorded for Curated Tastes, he states that he has spoken with some of his neighbours and noted down what their favourite flower or bird were and that he will be adding these details in his work as a 'sort of my gift to [his] neighbours, because [they`re] all stuck with the same view'. Watch the following video where Dan Jackson shares more details about his practice and expresses how art can bring comfort in moments like the one we are living through now.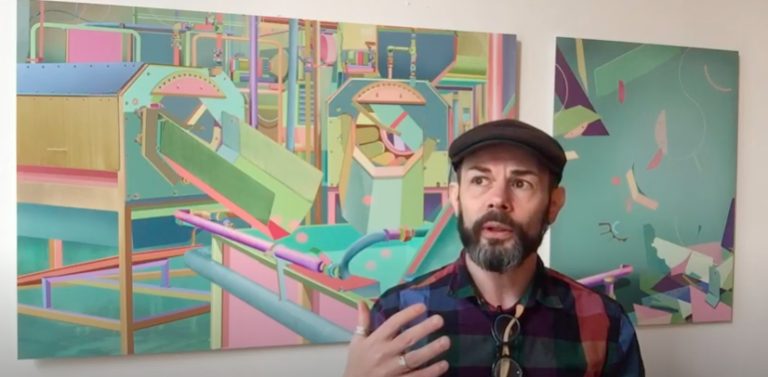 Transcript:
'Hi my name is Dan Jackson, I'm a photographer and owner of  studio 730 in Vancouver BC. Studio 730 is a part-time commercial studio, part-time art gallery, located in downtown Vancouver. We have since shut down because of the pandemic. Normally, this is a place that's bustling with creative endeavours – we do probably about 200 photoshoots a year here. I have four resident full time artists, and one part time resident artist [working out of] here. The rest of the time, we offer seminars, lectures, workshops and art exhibits a few times a year as well. 
Miret and Rebecca from Curated Tastes have asked me and other artists to show you around our spaces, and how we're coping while we all shelter in place and work from our homes. I am normally working from my home and doing my best to cope in that way as well, but this is a bit surreal for me. Normally this space is bustling with activity and all kinds of energy and it's certainly a different vibe in here right now. But, you know, we'll get through this together.' 
WHAT RELATIONSHIP DOES PAINTING HAVE TO YOUR PHOTOGRAPHY PRACTICE?
'My current series that I've been working on for the last couple years is advocating for photographers to work in genres of art that are not normally associated with photography. Abstract expressionism is something I'm particularly interested in. If you're a painter, if you're Kandinsky and you want to convey an emotion or an idea through the use of something as elegant as a purple rectangle, you simply paint a purple rectangle but if you're a photographer, we're engaged in the process of documenting. So where do you get an abstract purple rectangle? This has always been in the back of my mind, and a few years ago I was hired to photograph and document a window in a glass factory. As I was shooting from the balcony from the gangway down onto the plant floor, it occurred to me, this is the mother load of abstract shapes and patterns.'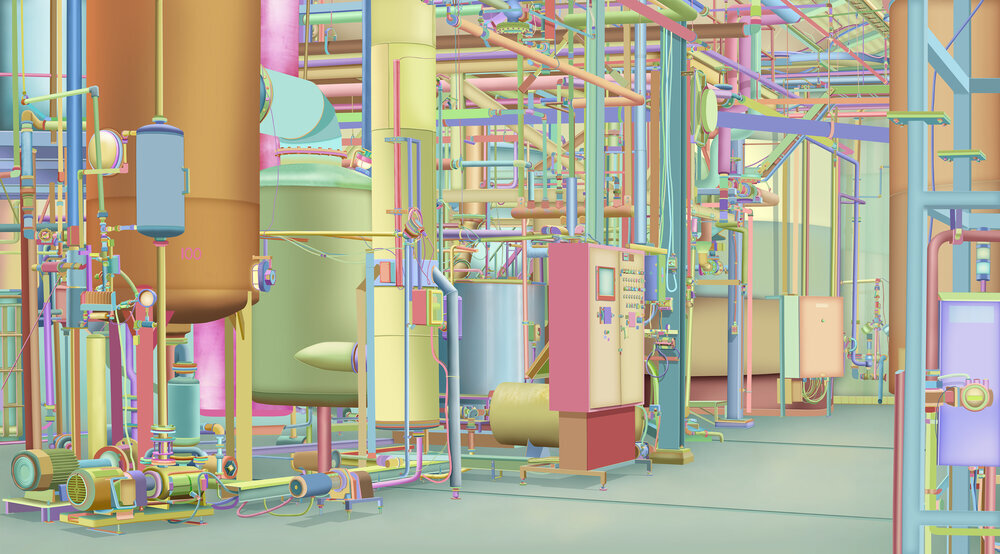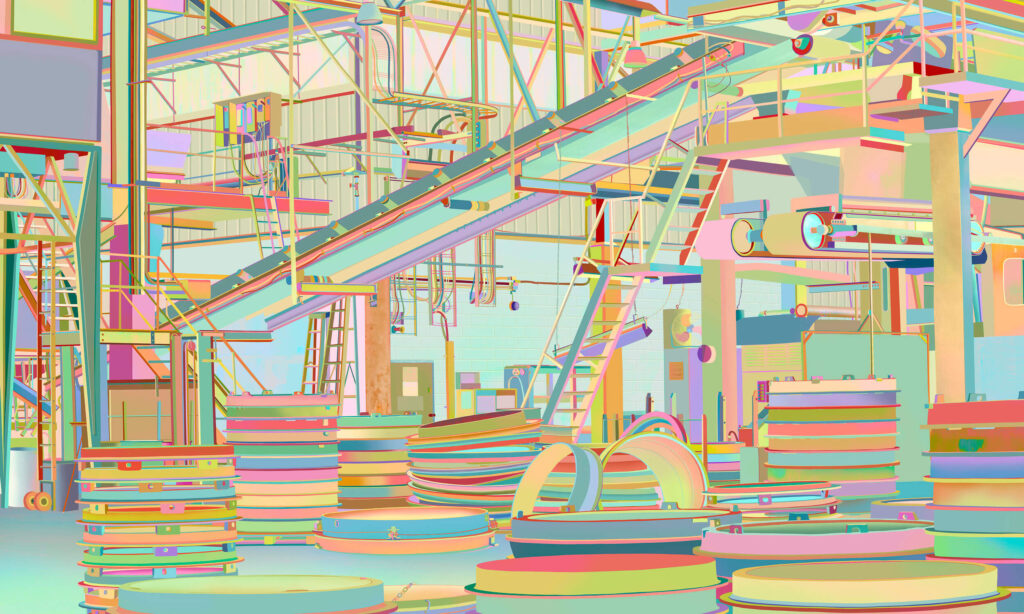 'All I really had to do was attach a colour to each and every one of these shapes, and each and every surface in this plant, and I would have a library of shapes and colours from which I could extract and reconfigure them into any number of abstract pieces of art that would transform from documentation to something more expressive.'
WHAT ARE YOU CURRENTLY WORKING ON?
'We are in my apartment here in Marpole now. This is where I've been sequestered for a couple of weeks, and what I've been working on in this series here is about taking spaces that are banal and industrial and drab and transforming them from what would normally be documented into something that's a little bit more interpretive. I've taken the same technique and applied it to my view from my balcony, which looks out onto the back alley, so it's dumpsters and trees that haven't flowered yet.  I'm transforming my view into something that is a little bit more fantastical, and it's something that I've spoken to all the people I've gotten to know in this neighbourhood as well and then glean some information from them in terms of what their favourite flower is or what their favourite bird is and I'm going to be incorporating that into this image as well, so it's sort of my gift to my neighbours, because we're all stuck with the same view – it's tongue in cheek and it's supposed to be funny and whimsical.
Right now, people are turning to the arts for some comfort. I think that self reflection is a luxury we afford ourselves when times are good. And if people want to reflect on the reality of the situation, there's an artist out there who's creating work where that is reflected in their work. If you want some escapism, there are artists out there creating that and providing that as well. So no matter what your heart needs, there's an artist out there, creating work for you right now. I think that's a noble endeavour and something that the artists are counted on at times like this. So, I guess I just want to say, keep being creative, keep creating, stay safe, and after all this is over, we'll all have a big group hug and call your parents! Take care.' – Dan Jackson
Website : https://www.danjacksonart.com/
Instagram: https://www.instagram.com/danjacksonart/
Facebook: https://www.facebook.com/DanJackson.ManifestPhotography