We can't think of better refuge than art. In both the literal and figurative way. During the past months, we've felt psychological comfort and emotional appeasement by engaging with artworks, artists and gallerists. We've also felt safe in their art spaces since we are generally able to maintain a generous distance and their attention to sanitary measures have exceeded our expectations. 
During a time where we lost the pleasures of the nightlife, cinema and IRL performances, we feel extremely lucky and grateful to be able to continue to experience other art forms in person. 
Back in August, we were shocked to realize that we had begun adapting to this pandemic lifestyle for 5 months already. Some days felt like minutes and others felt like timeless weeks. 
For Rebecca and I, art is an attempt to understand this complicated world and curious human experience. I think this is a big part of why we are so passionate about what we do. As soon as we felt the imminent wave of change coming, we got in touch with artists to ask how they were doing, to see how they were responding to change through their work and asked what they were working on. 
But of course just like us non-artists, they each had a very individual way of processing and coping with what was/is changing. Several spaces in Vancouver felt the same need for conversation and held exhibitions exploring the impact of the pandemic. We were fortunate to witness some, highlighted below.
PENDULUM GALLERY
885 West Georgia Street, Vancouver
PAST EXHIBITION
What are u working on?
July 20 – August 14 2020
We found some answers through What are u working on, an exhibition at Pendulum Gallery in August 2020 that gave 12 Vancouver based artists the space to share their responses to our current situation. This exhibition included artists, Aimée Henny Brown, Bettina Matzkuhn, Brian Howell Ewan McNeil, Hank Bull, Hugh Kearney Jay Senetchko, Kari Kristensen, Lincoln Clarkes Marcus Bowcott, Shirley Wiebe and Tiko Kerr.
"When the health crisis hit, no one new where it was going, or what the impact would be on our lives. This exhibition had its start through a number of conversations with artists who, when we spoke and the inevitable question 'What are you working on?' was put to them, often spoke of a general malaise and underlying physical fatigue that was draining them of their creative energies. This effect, termed Allostatic Load, impacts both body and mind. Events like the Pandemic wrap us in a sort of blanket of stress that we are not consciously aware of, always in the background, impacting our mental and physical well-being." – Pendulum Gallery
Rebecca and I were pleasantly surprised to see a current event through a retrospective lens and we were equally impressed with artists' productivity at an early stage of the pandemic. Viewing the works in this exhibition helped us process the immensity of the pandemic through a collective human scale perspective.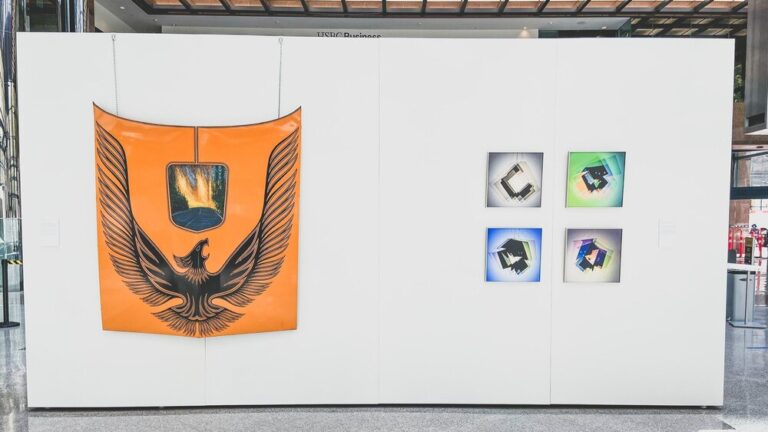 HOWARD 495
495 Railway St 2nd Floor, Vancouver
CURRENT EXHIBITION
MASK.ING
October 3 – November 28, 2020
Krista Howard's new exhibition space is impressive to say the least. As you enter the stark white building, located near the core and origins of our port city, a staircase leads you to the second floor where you find yourself in an intimate room that then opens into a large and luminous exhibition space. Through the north window our eye was caught by the ports' bustling activity as cranes played tetris with the vibrantly coloured containers. We were met in the main room with a warm welcome and were delighted to see the exhibition on display which touched upon diverse notions around what masking and/or covering means. 
"MASK.ING features works by Beau Dick, T.J. Wilcox, Helen Levitt, Cindy Sherman, Douglas Coupland, Adad Hannah, Andy Warhol, Alison Yip, Tyler Shields, Pentti Sammallahti, Tyler Toews, Shawn Hunt, Sara Gulamali, Lawrence Paul Yuxweluptun and Steven Klein; all of whom employ masks and masking along various, yet tandem, trajectories.
'This exhibition intends to speak to the human impulse to transform, hide, or construct identity and to underscore the many uses, functions and forms of the mask and the inspiration it has lent to modern and contemporary artists." – Howard 495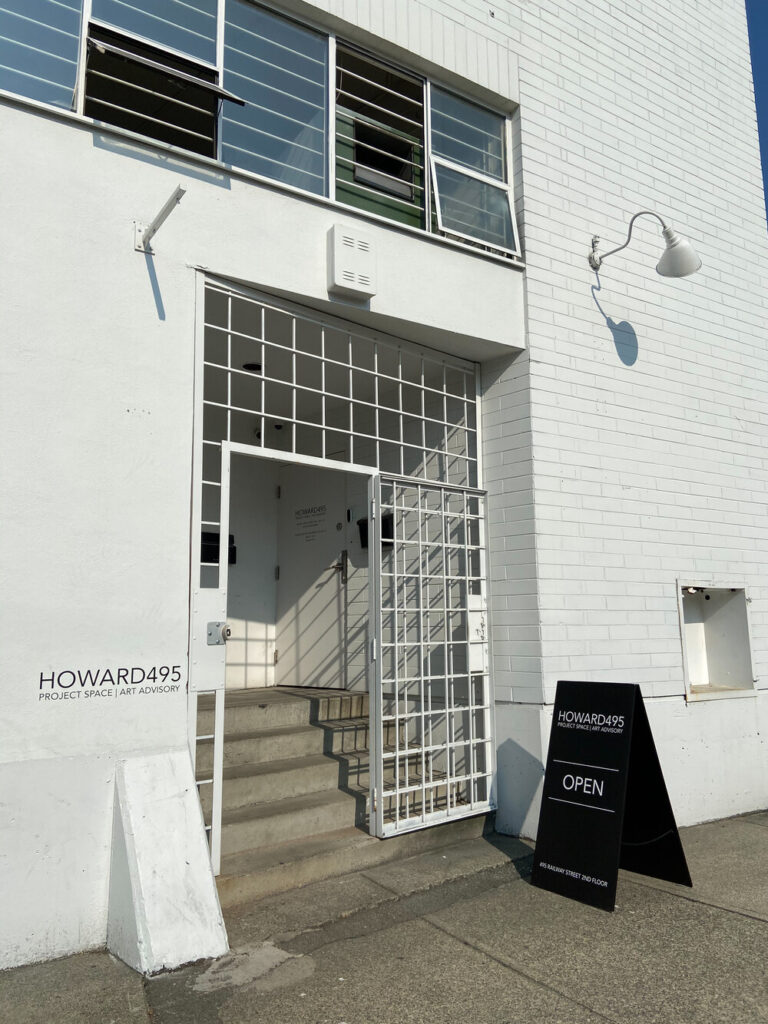 FAZAKAS GALLERY
688 East Hastings St, Vancouver
CURRENT EXHIBITION
Living Room
October 1 – November 13, 2020
In the heat of Vancouver's Downtown Eastside, you will find Fazakas Gallery, a thoughtfully curated space with a constant flow of exhibitions centred around pertinent contemporary discourse while aiming 'to enhance, enrich, and broaden visibility and understanding of Indigenous art.'  Domiciliary practices are both contemplated and celebrated through the intricating designed works in this exhibition.
'Living Room brings together works by artists Audie Murray, Catherine Blackburn, Carollyne Yardley, Marcy Friesen, and Trace Yeomans. In the gallery-turned-living room, the exhibition considers the global shift towards living and working in simultaneous spaces following the public health guidelines of the COVID-19 pandemic.
'The scale of the pandemic has created the largest collective experience in modern history. Public health measures, national lockdowns, travel restrictions, new daily protocols, economic devastation. No stone is left unturned by the innumerable effects the pandemic has and will have in the future. As we witness the seismic scale of repercussions, we've been forced by our individual experiences of introspection to slow down and meditate on the more intimate details of our lives. With an increased familiarity with our domestic spaces, the ways in which we live and work have shifted to prioritize new thoughts, scales, and materialities. 
'As the discourse of contemporary cultural production, art has always prioritized conversations that center relevance. The artists in this exhibition have demonstrated such pertinence as forefronted through the legacies of Indigenous crafting techniques. Reflecting on experimental materiality and social awareness to the issues of domestic violence following stay-at-home orders, the effect on global supply chains, urbanization of natural habitats as disease-harbouring, and the woes of introspection following the bleakness of self-isolation. History is being written before us, and art has always been one of the most effective tools for studying history.' – Fazakas Gallery