On unattained spacewalks and skirt parachutes: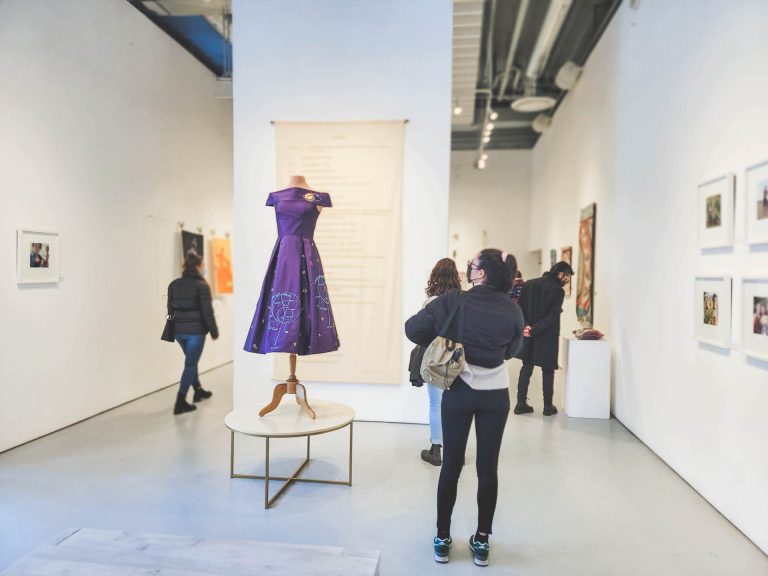 Two exhibitions in North Vancouver have been making us look upwards into the sky and out into Space. 
We recently organized a gallery hop in North Vancouver with which we visited 'Cloud Album' at Polygon Gallery and 'I wanted to go on a Space Walk but I had nothing to wear' at CityScape Community ArtSpace. Although we inevitably read unintended commonalities between both exhibitions (like the close links between art and science and the human fascination with measuring and documenting what we perceive and see) each exhibition taught us different learnings and inspired diverse reflections. 
With the exhibition 'I wanted to go on a Space Walk but I had nothing to wear' at Cityscape Community Artspace, 5 Vancouver-based female artists bring forward fascinating stories about inspiring women in science and reflections about inhabiting a women's body.
Who went on a spacewalk?
Well, thanks to the installation 'The Invisible Woman' by Marcia Pitch we know that astronaut Anne McClain definitely did not go with astronaut Christina Koch to swap the aging batteries on the outside of the International Space Station, in what was meant to be the first all-female spacewalk programmed for 2019. Although there is a nuanced backstory to why McClain made the decision to not operate that mission in a large size suit, the dominant narrative in the media was that NASA didn't foresee having the right sizes for both Anne McClain and Christina Koch. These news got artist Marcia Pitch's attention on women's invisibility, especially one in the field of science. About this she states: "I am struck by the lack of foresight to tailor for women's bodies in the world of science and space exploration. This is one of the many examples of how women are rendered invisible in a world designed primarily for men"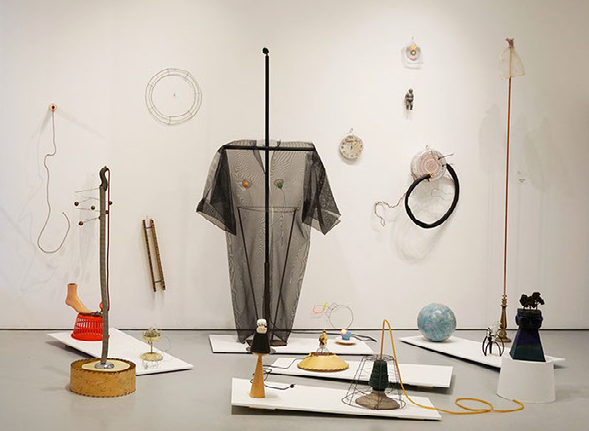 Another inspiration for this installation is space debris. "When I picture outer space filled with junk from decades of space travel, I imagine all the useless and archaic relics drifting past. What will future generations think of us?" – Marcia Pitch
Sarah Ann Henley jumps off the 75-meter Clifton Bridge and survives
In 1885 barmaid Sarah Ann Henley jumped off a 75-meter bridge and survives her suicide attempt. Witnesses of the time claimed that a billowing effect created by an updraft of air beneath her crinoline skirt, slowed the pace of her fall, misdirecting her away from the water and instead directed her toward the muddy banks of the Bristol side of the Avon River. Although there is no evidence that the wind or the skirt saved Henley from the fall, the story of Henley being saved by her 'parachute' crinoline skirt has nevertheless become a local Bristol legend recently imported to Vancouver with artist Ruth Scheuing's textile works.
Scheuing revives the memory of women like Sarah Ann Henley, Sophie Blanchard (one of the first women aeronauts) and mathematician Ada Lovelace through an array of digital Jacquard loom textile works.

"I explore the early lighter-than-air ballooning craze and its aeronauts. One of the first women aeronauts was the French Sophie Blanchard (1778-1819), who made over 60 solo flights after the death of her husband and ballooning pioneer Jean-Pierre. During public displays hosted by Napoleon and later Louis XVIII, she would launch fireworks as she floated overhead. She designed both her dress and the small 3 foot and 1-foot-high silver gondola to show off her fragility and her daring."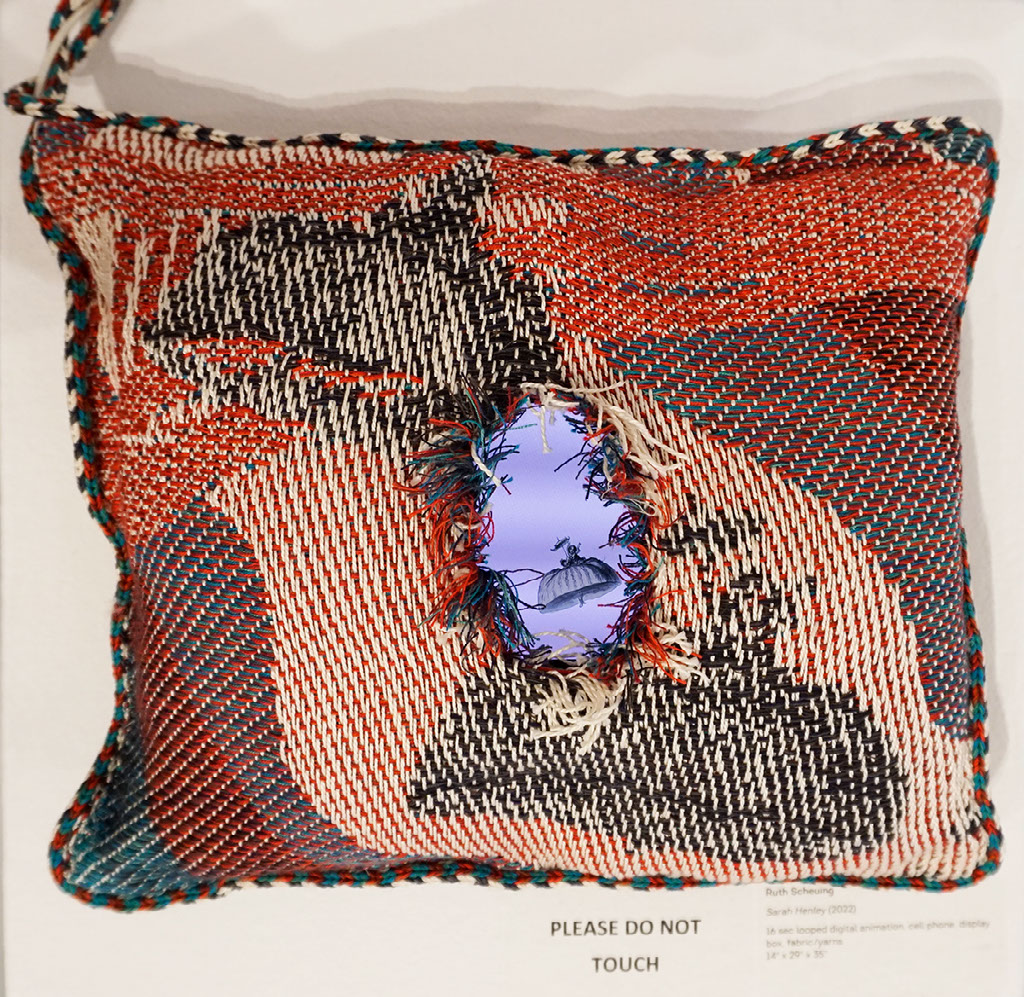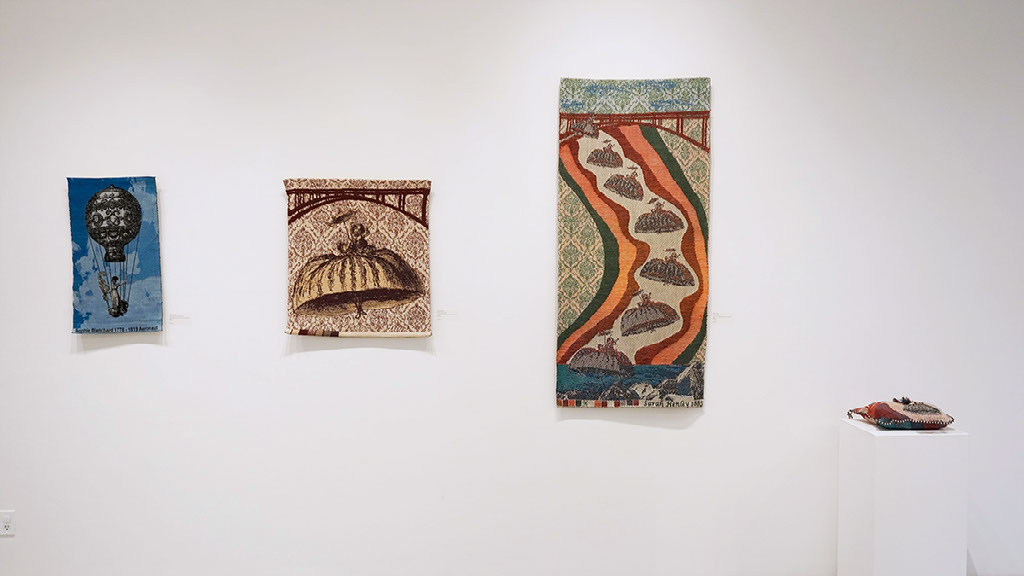 A tribute to mathematician Katherine Johnson
Artist Catherine M. Stewart created this purple dress and backdrop as a tribute to 1960s mathematician Katherine Johnson's professional, domestic and community life. 
Referencing Johnson's elegant and modest dressing style, Steward hand-made this classic mid-century cocktail dress and textile banner. She embroidered both pieces with symbols and diagrams sourced from a paper about lunar orbits that Johnson co-authored with NASA engineer Harold Hamer in 1969. The emblem on the collar of the dress is a variation on the official NASA symbol in the 60s. Stewart states that "Katherine Johnson's mathematical contributions to the NASA Space Program were particularly remarkable given the barriers she faced at the time, both as a woman and a woman of colour".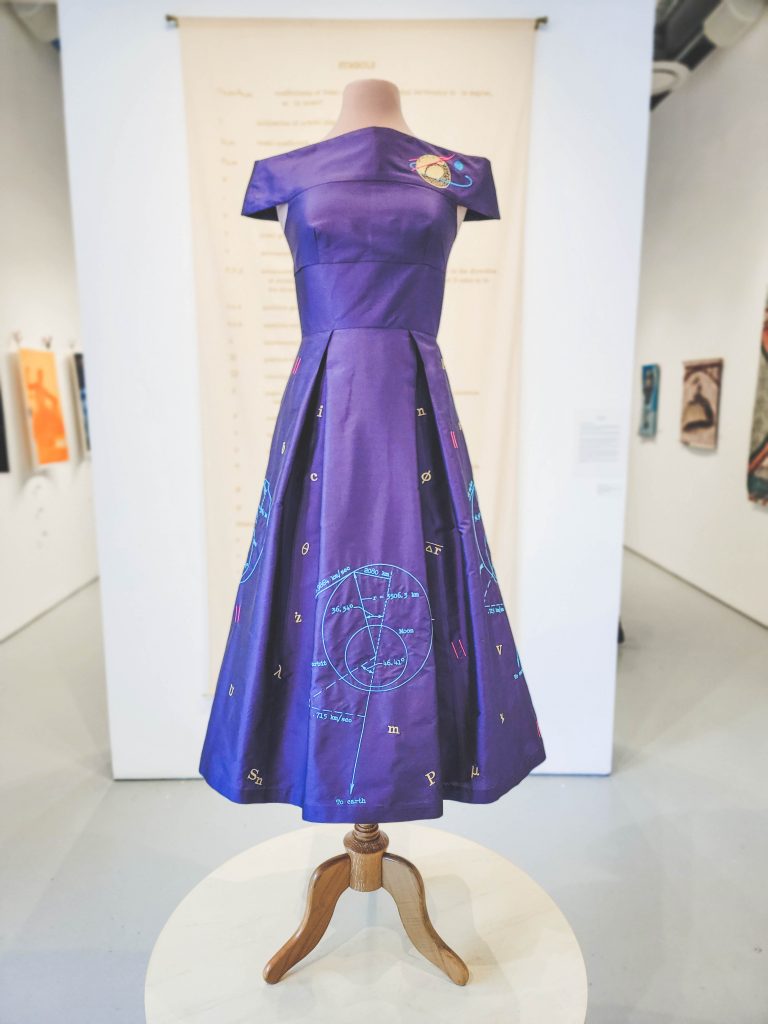 On Display alongside the gown are Stewart's first in a series of archival inkjet prints that combine the visual languages of orbital mechanics, domestic dressmaking and the artist's private photographic archive.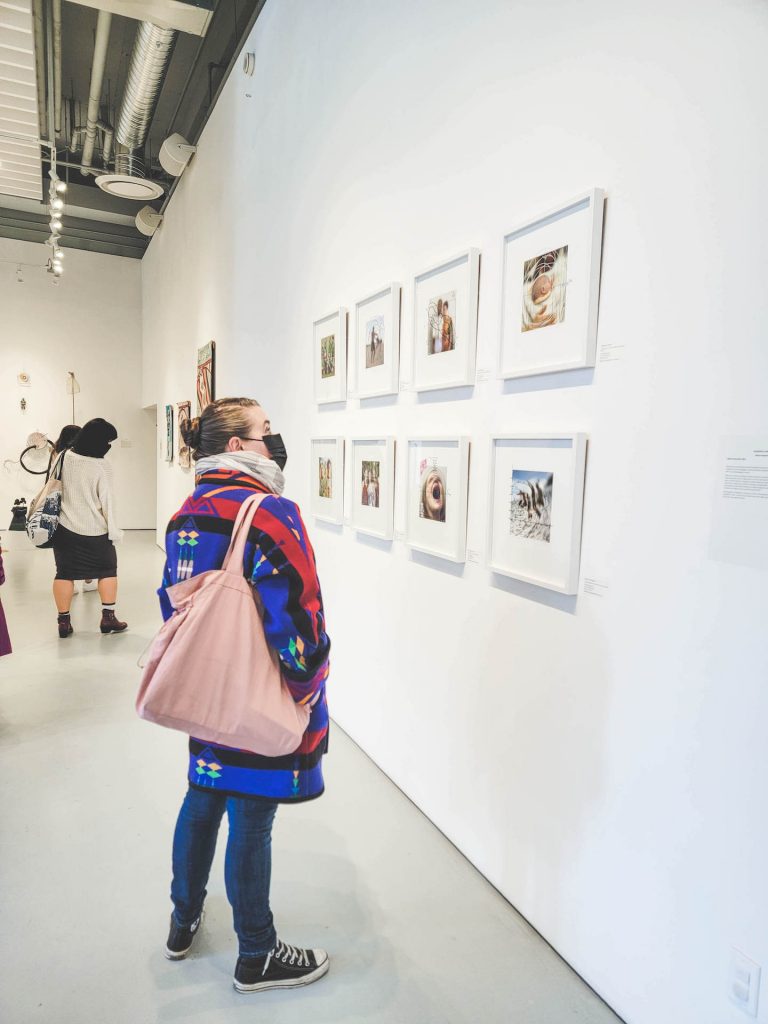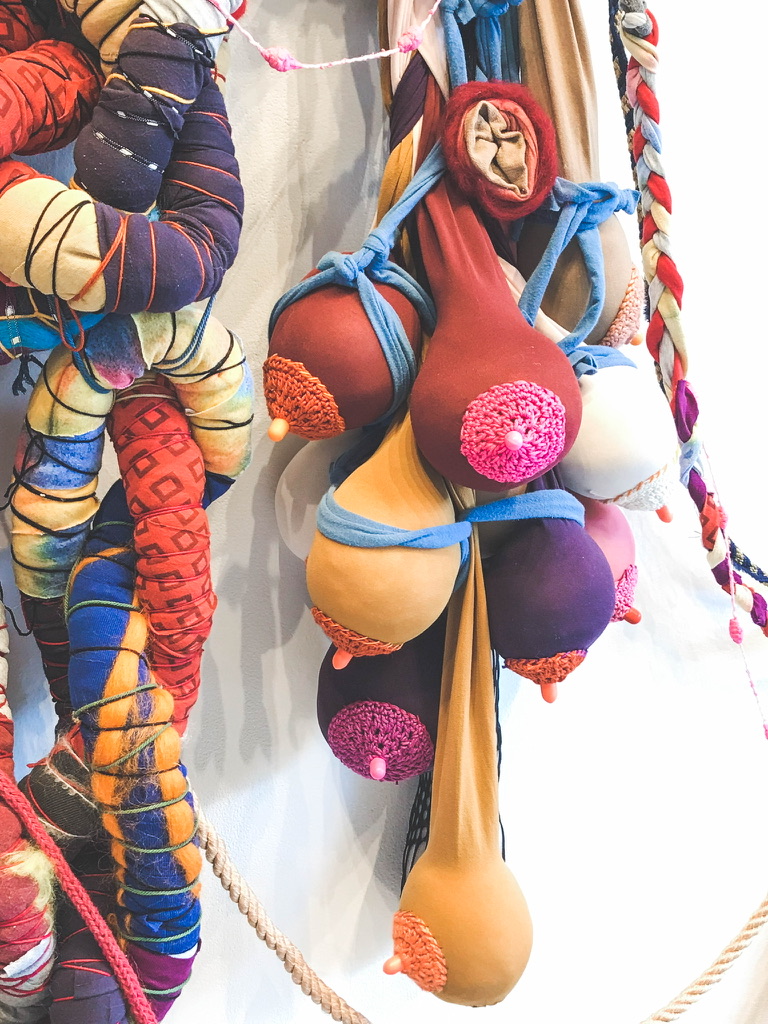 Pierced, prodded, Cut, Stitched, bruised…
These are the first 5 words in a poem that accompany this vibrant textile installation. This pairing of words and visual work bring forward the continuous struggle and stigmatization of the female body, one that throughout history has been tamed, shaped and remade in the service of desire and attractiveness.
Shameless (2022) by Ilze Bebris "is a metaphor for the fragmented body, an echo of a culture that sees certain traits as desirable, others as embarrassing or shameful, making women's bodies sites of exaggerated and commodified desire and endangering women's health and wellbeing."
What do fairytales, Hubble Telescope images, Buddhism and a Sumerian planisphere have in common?
Creative writing, science and religion come together in an assemblage of narratives put together by artist Kiku Hawkes. These 3 large collaged cyanotype prints integrate layers of translucent antique and vintage dress patterns with Hubble Telescope images, alchemical woodcuts and astronomical data. The Rockettes series by Kiku Hawkes "is assembled from diverse sources, including the Grimm Brothers' fairy-tale of Allerleirauh, or "Many-skins"; NASA and Hubble Telescope's free, high-res images; and a Neo-Assyrian copy of a Sumerian clay planisphere documenting the transit of a large asteroid passing over Mesopotamia in 3123 BCE, on its way to decimating a mountaintop in Austria. These dancing, striding figures respond to our "billionaires in space" and question if viewing the cosmos solely through a lens of resource extraction and tourism might be using the wrong end of the telescope." – North Van Arts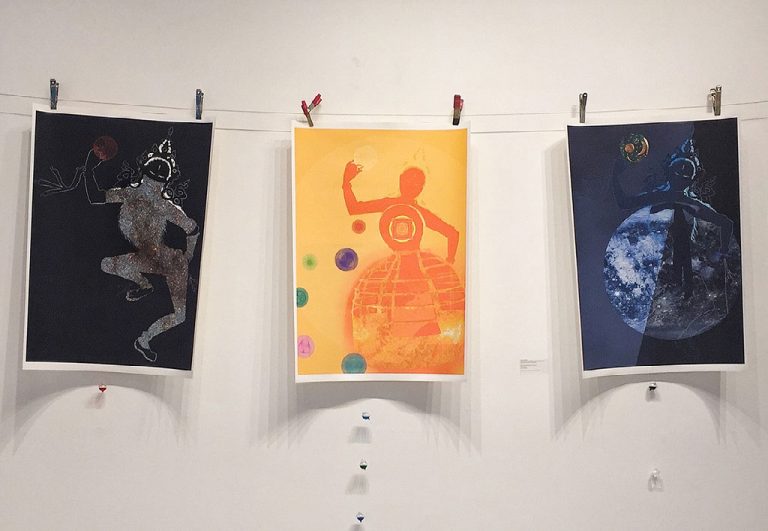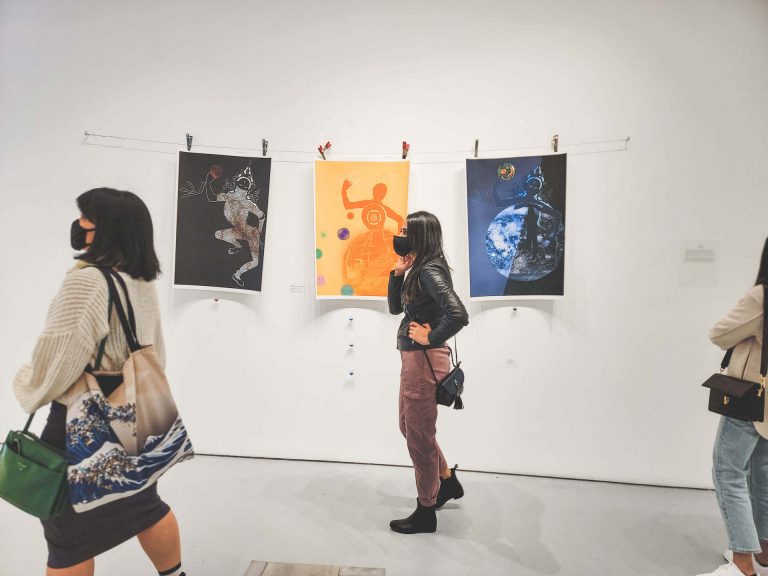 "I wanted to go on a Space Walk but I had nothing to wear' at CityScape Community ArtSpace, is an exhibition rich in content and media worth visiting before Apr 14, 2022. It reminds us about the unmeasurable force and energy that women are and of the space that women still need to assert in the 21st century.
CityScape Community ArtSpace is located at 335 Lonsdale Ave. This contemporary art space is owned by the City of North Vancouver, and programmed and managed by North Van Arts. Admission is free.
Check out our event recap of this exhibition and the virtual exhibition if you can make it before April 14.